If you are worried or concerned about a child or young person mental health and wellbeing please follow the links below for more information, that can be very helpful.
If you are more worried and concerned then you can ring Social Care Direct on 0345 850 3503 or by contacting your local GP.
Please find useful links below for more information about Mental Health and Well-Being.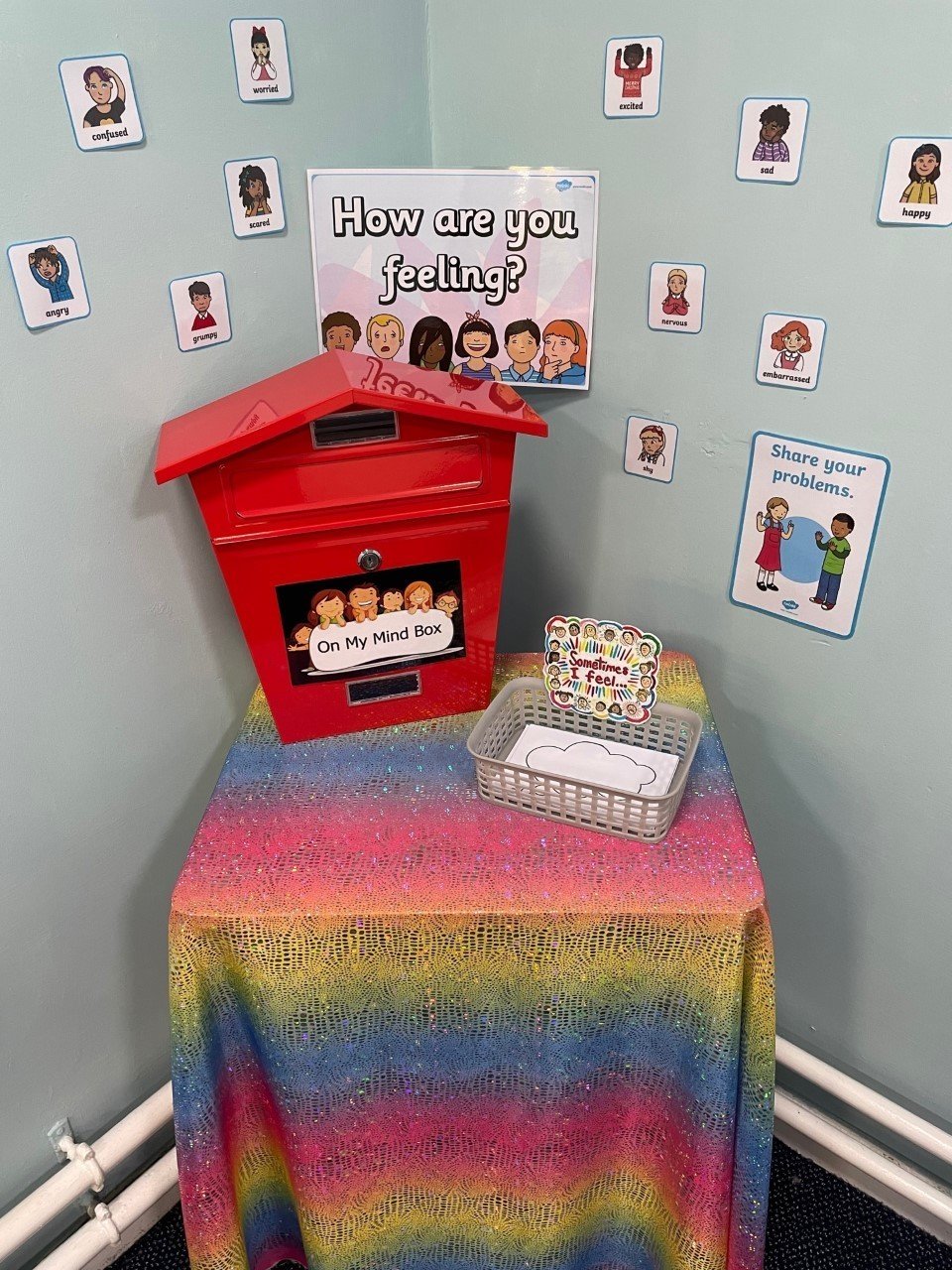 We have on my mind boxes across school to support our children. Our mental health first aider checks them regularly and provides additional support to our children when needed.
Supporting children's mental health during lockdown
Many children are feeling anxious about current events and changes to their normal routines. Below are some tips on how you can help your child to understand what's going on and feel safe at home during the lockdown.
Be honest about what's happening
There are useful websites to help inform your child about what's going on. Be honest with your child about your own concerns, but reassure them that there are measures in place to protect all of us.
Remember, sometimes less is more. Give your child the basic information they need, and then see what additional questions they may have
Encourage your child to ask you questions, but limit this time
Make a set time to discuss your child's questions and stick to it if you can. Plan other activities through the day which don't directly relate to the coronavirus. Children can pick up on parental stress very easily, even if they don't outwardly show it. Reduce anxiety and stress for yourself and your child by turning off any background TV.
Focus on positive stories
Balance out more stressful news by focusing on positive stories. You could watch videos of different ways people are showing their support for the NHS, talk about the fun activities you've enjoyed together during lockdown, or make a list of things you're looking forward to in the future.
Establish a routine
Routines are important for us all. We have set work for your child which requires you to follow a routine anyway, but you may have to build on this or create one of your own. Use timetables to help your child understand what comes next and to encourage their independence by knowing when an activity is going to start or finish. This might also be a good opportunity to reinforce learning to tell the time. Sit down with the whole family so that everyone knows what each member needs to do for school, work, household chores and play.
Try different activities
If you have enough space, break up the day by using different spaces in the home for different activities, such as using the kitchen for cooking, garden for painting, and bathroom for water-based activities. Try to differentiate between the spaces you use for sleeping and playing.