Welcome to St Joseph's
School Website – School 'Out of Office' response
St Joseph's Pontefract is now closed for the school holidays.
All enquiries to the school and requests for information will be processed when the school reopens on Tuesday 4th September.
For GDPR information, please drag over the yellow 'More' button, then drag over 'Key Documentation'.
If a parent requires a paper copy of any of the information on this website, we will provide this free of charge.Normally, we ask for 24 hours notice.
Our full postal address is:
St Joseph's Catholic Primary School, A Voluntary Academy
Newgate
Pontefract
West Yorkshire
WF8 4AA
Tel:01977 701 493
Headteacher- Mr. D. Redfern
In most cases, one of the named people below will answer the phone;
Trainee Business Manager-Mrs C Kendrick
Administrators- Mrs. S. Broughan/Mrs A Beckett
Senco-Mrs M Kaushiva- Contact via school office. Please refer to our detailed SEND area for more. Click on 'More' on the home page and then 'Key Documentation'.
For Safeguarding information, hover over the yellow 'More' button on the home page.
Our Mission
Here, under the guidance of our patriarch, St Joseph, and inspired by centuries of Catholic teaching, we begin to learn how to serve each other and our world with the same faithful joy which we see in Jesus, our saviour and our Lord.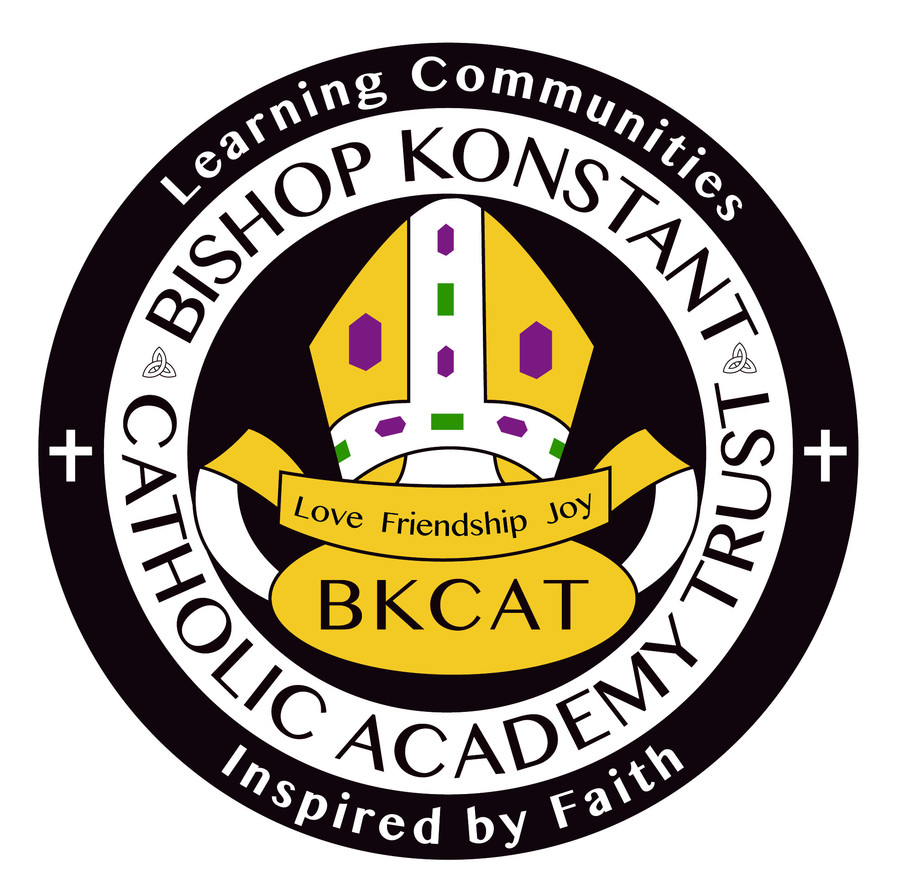 The Bishop Konstant Catholic Academy Trust is an exempt charity regulated by the Secretary of State for Education. It is a company limited by guarantee registered in England and Wales, company number 8253770, whose registered office is at The Zucchi Suite, Nostell Business Estate, Nostell, Wakefield, WF4
---
To Him be glory and praise for ever...
ST JOSEPH'S CATHOLIC PRIMARY SCHOOL AIMS
To work with parents, carers and the parish to stimulate and nurture each child's faith through prayer, worship and liturgy.
To provide a safe, welcoming and secure environment in which each child feels happy and valued and challenges him/her to become a motivated and independent learner.
To provide a stimulating broad balanced curriculum in which the highest standards in education can be achieved.
To nurture the uniqueness, talents and abilities of each individual to help achieve their full potential at school, at home and in society.
To work with parents, carers and the wider community to establish Christian values regardless of race, gender, ability and cultural background.
To provide opportunities for all staff to develop their talents and skills for their own benefit and the benefit of school and the wider community.
To encourage personal qualities of good manners, self discipline, confidence, respect and consideration for others.
St Joseph's Catholic Primary School, Pontefract, a voluntary academy, is a welcoming learning community with Christ at its heart. We have been an academy since November 2012, as part of the wider 'Bishop Konstant' Catholic Academy Trust, and we enjoy our close relationship with the Catholic network of schools around us.

Learning through Christ is at the heart of our school mission, and this was affirmed when we were judged as 'outstanding in all areas' both in our 2012 Ofsted inspection and our 2012 R. E inspection.
We have supportive parents, wonderful, well behaved, enthusiastic children and a very supportive governing body.We work hard to ensure we are a central part of the community of St Joseph's, and have a very close relationship with our Parish priest, Father Simon Lodge.
Term Dates
To see term dates for 2017-2018, hover over 'parents' on the home page.
How parents or other members of the public can find out more about the curriculum our school is following:
the content of our school curriculum in each academic year for every subject. To access this, please go to red 'Classes' button at the top of the home page and then scroll down until you find your child's year group. If you hover over the relevant year group you will see a link to class timetables.This is where you will be able to find out more about what topics are being taught.
the names of any phonics or reading schemes we're using in key stage 1. We use 'Read Write Inc' as our main phonics approach. We also use 'letters and Sounds' as appropriate. To find out more about 'Read Write Inc ' please click here.
the curriculum we use- To see details of what is taught in every year group, go to 'Children' and then 'Curriculum'. Each subject is posted separately.
Parent View
You are most welcome to give your viewpoints of the school by completing a questionnaire via this website link: www.parentview.co.uk
St Joseph's Catholic Primary School News
Our school had its 5 yearly section 48 R.E. inspection in April 2017.

World Down Syndrome Day is on Tuesday 21st March

Young Voices-In January our choir travelled to Sheffield Arena to take part in 'Young Voices', effectively the biggest youth choir in the world.

Spelling- Please have a look in your child's planner, where you will find lists of spellings for years 3-6. These are the words that children of each age are 'expected' to know.

Calling All Parents and Carers….URGENT REQUEST Do you have a morning or an afternoon to spare once a week? Would you like to come in and listen to readers in school? If so, we would be delighted to hear from you!
Further Articles »
Latest School Events
School closed for Summer

27

Jul

2018

@ School closed

Summer holidays. Although dates have not yet been ratified by governors, the date of return is likely to be Tuesday 4th september 2018. However, this MUST be taken as provisional at the moment.